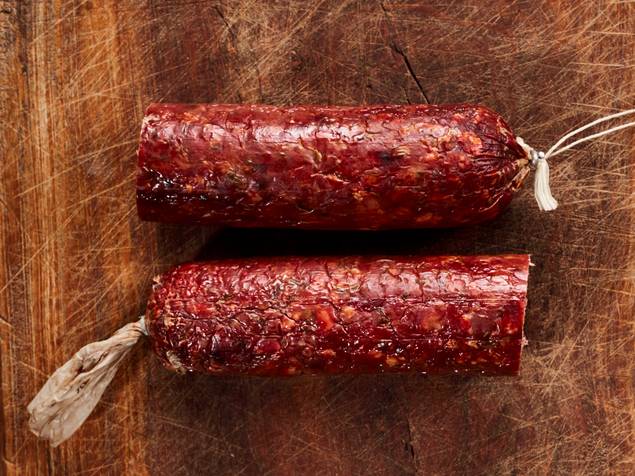 Made with Matangi Angus Beef (no pork), and a dash of Craggy Range Merlot. This Salami is so delicious, once you start, it's hard to stop!
Our Aged Beef Salamis are handcrafted by our butcher Paul and then placed in our dry-ager cabinet. Over time, moisture is lost and the weight of the Salami decreases. However, the flavour only continues to improve with time. Therefore the weight of the product you receive will vary.
Ingredients
Beef, Red wine, Salt, Acidity Regulator (575) Spices, Dextrose, Mineral Salt (451,450,452) Garlic, Antioxidant (316), Preservative (250)
Crafted with precision...
Matangi Angus Beef is reserved for New Zealanders – meat connoisseurs, Kiwis or friends of Aotearoa who live here or visit – who want to experience the best grass-fed Angus beef.
Our meat is a luxury product perfect for special occasions. Offering a superior experience, we go the extra mile from breeding our own closed herd, with no butchering before 24 months, to hanging and dry ageing the quarters on the bone for three weeks before our master butcher Paul does the fine cuts. This produces the well marbled and succulent cuts our discerning customers expect and desire.
get to know our butcher
Our mission...
The best grass-fed Angus Beef for Kiwi meat lovers.
The quality of our land is a key ingredient to raising healthy, strong and ultimately flavoursome Angus cattle. We breed and raise our animals over two properties within the Tuki Tuki catchment. Lush grass on nutritious soil, clean water in every paddock, shady trees, all contours of landscape – the perfect backdrop for contented animals. And we're constantly improving these wonderful places by planting native trees, fencing off creeks, protecting the soil and our water sources.